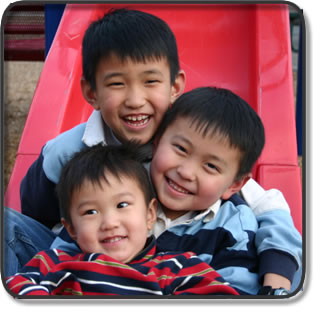 Admitting Hospitals


Dr. Shen will be delighted to see your newborn baby no matter which hospital your child is delivered at. He visits newborn babies at the following institutions:


2105 Forest Avenue
San Jose, CA 95128
[map]
(408) 947-2500


725 Welch Road
Palo Alto, California 94304
[map]
(650) 497-8000


225 North Jackson Avenue
San Jose, CA 95116
[map]
(408) 259-5000
Congratulations and Welcome


Dr. Shen is accepting newborns and new babies into the pediatric practice in San Jose, CA.

Can we meet Dr. Shen before choosing our pediatrician?
Absolutely! Please call us at 408-296-9800 to schedule a free consultation before your baby arrives. It is important for you to meet your future pediatrician in person to get a feel for our office and practice style, as well as to ask any questions you may have before the new baby arrives.
Are you Licensed and Board Certified in Pediatrics?
Yes. Dr. Shen is licensed to practice medicine in the state of California and are Board Certified by the American Board of Pediatrics. In addition, he is also aboard certified internist (adult medicine) by the American Board of Internal Medicine.
Where do the doctors see newborn babies?

Dr. Shen has admitting privileges at O'Connor Hospital, Lucile Packard Children's Hospital, and Regional Medical Center of San Jose. We will see your baby the same day or following morning after your new baby has arrived and will visit you every day you remain in the hospital.
What if I am delivering at another hospital?
If your child is being delivered at another local hospital (for example: Good Samaritan, or El Camino Hospital) Dr. Shen will be happy to see your baby once he or she has left the hospital for all their well baby needs. Simply tell your Obstetrician that we will be seeing your new baby after you leave the hospital. They can find a pediatrician to see your baby for the few days they are in the hospital.
Will Dr. Shen see premature babies?
Yes. Dr. Shen istrained and qualified to see your premature baby while in the hospital. In some cases we will also ask a newborn specialist (neonatologist) to consult as well.
What shots will my baby receive?
We follow the American Academy of Pediatrics and American Committee on Immunization Practices for all recommended vaccines. All infants will receive a Hepatitis B vaccine prompty after delivery at the hospital. After that, your baby will receive Hepatitis B, Diptheria-Tetanus-Pertussis, H. influenzae B, Pneumonia, Chickenpox, Hepatits A vaccines at the recommended intervals. Usually these are at 2, 4, 6 and 12 months. For a complete schedule of vaccines, please see the Immunize.org website.
The mother of our baby is a Hepatitis B Carrier. What else do I need to know?
We have extensive experience in treating families who are Hepatitis B carriers. If the mother is a Hepatitis B carrier, your baby will receive the standard Hepatitis B vaccine as well as Hepatitis B Immune Globulin shot immediately after delivery. Be sure your obstetrician is aware of your condition. From there, your child will receive the standard doses of Hepatitis B vaccine, and after that we will performa blood test to make sure your child is properly immunized.
Do you support breastfeeding?
Dr. Shen is a strong believer in breastfeeding. Breastfeeding has been shown to increase intelligence as well as decrease diseases such as asthma and improve immune response to disease. We suppport all moms who plan to breastfeed.
When are the routine well baby visits for my child?
We follow the American Academy of Pediatrics guidelines for routine well baby care. Your first visit will be between 2-4 days after discharge from the hospital. The next visits will be at 2 weeks, 1-2 months, 4 months, 6 months, 9 months, and one year.
How can I reach the doctor after hours for urgent concerns?
A doctor is ALWAYS on call for you. After hours if you call the office at 408-296-9800 you will be given a pager number to reach the doctor on call. We generally return all pages within 5 minutes. If you do not hear back within 15 minutes, please page again. Occasional network outages or improper keying leaves us unable to call you back.
Can I see you the same day for sick visits? Are you open on weekends?
Yes. We can usually see patients the same day for sick or urgent requests. The benefit of having 2 physicians in the office allows us the flexibility to schedule more patients as necessary. On Saturdays we are open from 9 AM - 12 PM for sick appointments.
What paperwork do I need to bring to our first appointment ?
Please bring any hospital discharge papers to your first visit if you were not visited by our pediatricians in the hospital.

You may download and fill out our new patient forms packet in advance of your first visit.